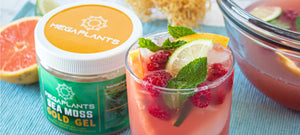 Cranberry Grape Fruit Punch
---
Cranberry Fruit Punch
Serve 4-5 people

Ingredients:

2 cups cranberry juice
1 cup pineapple juice
1 cup ginger ale
2 tbsp Seamoss Gel
1 pc grapefruit, sliced
1 cup raspberry
1 pc lime, sliced
Handful of mint leaf
Ice cubes

Instructions:

1. Add cranberry juice and Seamss Gel to a small size pot over medium heat.
Cook and stir until gel is dissolved completely. Remove from heat and
set aside to cool down.

2. Combined cool cranberry juice, pineapple juice, ginger ale,
mint, and all fruits to a punch bowl. Give a quick stir. Enjoy
with ice cubes!
Sorry, there are no products in this collection.