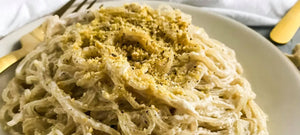 Sea Moss Infused Alfredo Sauce
---
Ingredients 
Kelp/zucchini noodles (or noodles of choice)

Half cup cashews

2 cloves crushed garlic

1 tbsp onion powder

2 tbsp of Sea Moss Gel

1/2 tsp pink Himalayan salt

2 tbsp brewers yeast

Crushed black pepper to taste
Directions:
Prepare your noodles according to package directions.
Place all other ingredients into the blender and blend on medium to high until the consistency and texture is rich and creamy. The Sea Moss will help thicken the sauce. Pour over your noodles, garnish 
Sorry, there are no products in this collection.