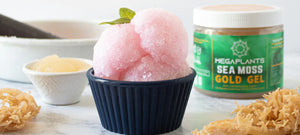 Blushing Rose and Icy Treats
---
Ingredients:

2 cups Rose wine
1/2 cup granulated sugar
1 cup water
1/2 cup lemon juice
1-2 tbsp Sea Moss Gold Gel

Instructions:

1. Combine all ingredients in a medium size pot. Bring to boil over medium
heat for 5-6 minutes or until sugar is dissolved. Remove from heat and pour into a
cake/loaf pan. Set it aside to cool down in room temperature. When it's not hot
anymore, cover with plastic wrap and freeze at least 8 hours or overnight.

2. After 8 hours, trasnfer sorbet to a food processor and process until smooth.
Return to the pan, cover and freeze again for at leat 8 hours or more. Yum!
Sorry, there are no products in this collection.