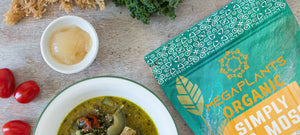 Pesto Noodle Soup
---
Pesto Noodle Soup
Makes 2 portions

Ingredients:

1cupsrigatoni pasta, cooked al dente
1/2 cupscucumber, sliced
1/4 cup sweet onion, minced
1/2 cup grape tomato, cut in half
10 tbsp Homemade Kale Pesto
2 cups vegetable stock
Handul of coriander, minced
1 cup water
2-3 tbsp Simply Sea Moss Gel
Pinch of salt, pepper and sugar
Oil

Instructions:
1. Heat splash of oil in a medium size over medium heat. Once heated, add minced  onion, sliced cucumber, grape tomato and saute until onion is translucent and fragrant for about 4-5 minutes.

2. Pour vegetable stock, water, coriander, and, Sea Moss Gel, and pesto. Bring to boil and coo for 8 minutes. Add in cooked pasta and pinch of salt, pepper, and sugar. Continue cooking for 3-4 minutes. Taste to see if you need more seasoning before take it off the heat. Enjoy while it's hot.
Sorry, there are no products in this collection.