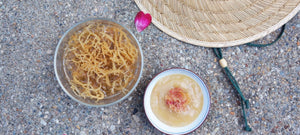 SOOTHING + BALANCING IRISH MOSS, ROSEWATER, + APPLE FACE MASK
---
One of our favorite at-home beauty recipes to support sensitive, overheated, + dehydrated skin ::: Leaves your skin soft, hydrated, calmed, + bright.  
INGREDIENTS:
Large Handful of Irish Moss
3 T of drinkable Rose Water
5 T freshly grated organic Apple
PROCESS:
Place the Irish Moss in a glass container and cover with spring water. Leave overnight in the fridge to soak. You want it to soften, become a bit lighter in color, + a bit slimy.
Rinse the plumped up Irish Moss in the sink, discard water.
Add 3/4 C of fresh spring water and the Irish Moss to your high-speed blender and blend until smooth and gel-like.
Add your 3T of Rose Water and blend again. Transfer to a Tupperware container
Grate about 5 T of organic apple and stir into your gel.
Let cool in the fridge.  ***This gel will last about 3 weeks refrigerated.
When your gel is nice and cool, apply to your entire face, neck, and chest area.
Leave on for 20 minutes and remove with a warm soft cloth.
Sorry, there are no products in this collection.